About us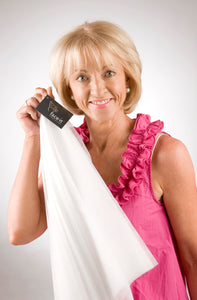 ABOUT FACE~IT SCARVES
face~it is a unique and easy-to-use disposable face scarf designed for use in women's fitting rooms, reducing damage and marking to clothes and providing customers with a hygienic way to change.
It was a fitting room experience that led to one Australian woman forming an idea that has since developed into face~it scarves, a ground-breaking invention now revolutionising the women's fashion industry.
Tired of finding garments spoiled by makeup, perspiration and sunscreen stains, Nicole Kean decided to invent a product like nothing else on the market – Australia's first disposable face scarf for use in change rooms.
Today the savvy Adelaide-based business entrepreneur has her pioneering product used in the fitting rooms of hundreds of women's fashion boutiques and retailers across Australia.
Since its inception in 2003, the face~it system has become widely recognised in the fashion industry as the smart, economical solution to dry cleaning costs and allows retailers to take customer service to a new level.
face~it has a diverse range of clients from boutiques to major retail chains across Australia and Overseas, and demand for the scarves continues to grow.
face~it protects your garments.